FOR USA DONORS ONLY
Shahid Afridi Foundation is a 501(c)(3) Public Organization.
We proudly partner with FFTC and CAF America with highest standard
of compliance and transparency.
Donate

Donations using Paypal & Card Payment.
Donate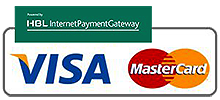 HBL Internet Payment Gateway
People who are more comfortable using CyberSource can also make a safe transaction through this platform in Pakistan.