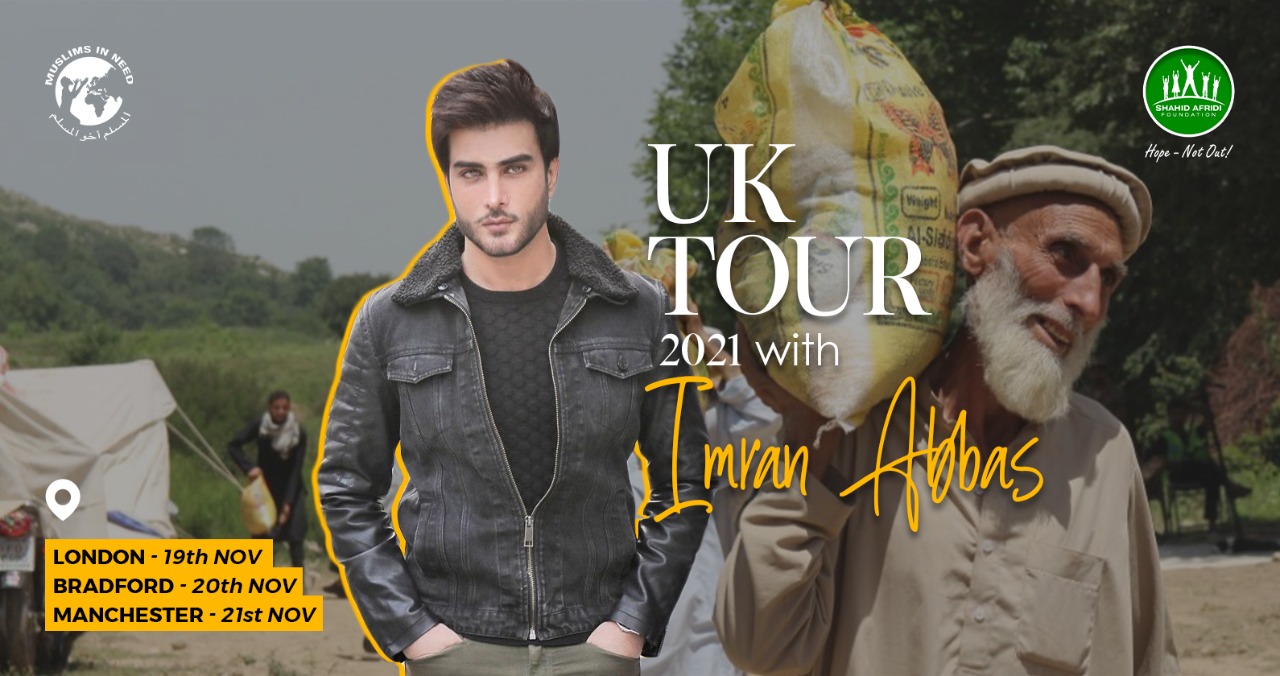 The UK fundraising tour 2021 aims to break down barriers for communities struggling to access food security, whilst encouraging YOU to act with impact in mind. Renowned actor, Imran Abbas has joined SAF's efforts by supporting the cause and promoting food security across Pakistan. The goal is to raise funds in order to facilitate destitute communities in leading healthier lives through the provision of nutritious foods for children and families, living in remote regions through a series of fundraisers in:
19th Nov London
20st Nov Bradford
21th Nov Manchester
Food Security in Pakistan
An average Pakistani household spends 50.8 percent of monthly income on food. This makes them particularly vulnerable to shocks, including high food prices. The impact of climate change and population displacements further exacerbates the situation. Pakistan scored extremely poorly on all indicators or drivers of food insecurity — from food availability, affordability, quality and safety to natural resources and resilience — considered by the GFSI for ranking nations on the index. The situation is further heightened as a result of the ongoing covid-19 pandemic.
According to the Pakistan Social and Living Standards Measurement, 16.4 out of every 100 households surveyed during the fiscal year 2019-2020 reported moderate to severe food insecurity, lagging behind almost all South Asian nations and several African countries.
SAF Emergency Relief Response
SAF puts a lot of effort to provide healthy food to the underprivileged through its ration drives not only across Pakistan but also internationally.
SAF ration bags include:
Flour – 10 kg | Pulses – 1 kg | Chana – 2 kg | Rice – 2 kg | Sugar – 2 kg | Cooking Oil- 2 kg | Soap- 1 Bar | Salt – 1 packet
One Ration bag serves a family of 5 members for 30 days
Take action against hunger
Be a part of the fight to end hunger in Pakistan
1 family for 30-day ration: £30
5 families for 30-day ration: £150
10 families for 30-day ration: £300
20 families for 30-day ration: £600
50 families for 30-day ration: £1500
Transform Communities with your Sadaqah Jariyah
Giving a Sadaqah Jariyah is one of the best things you can do for a loved one and something that they can benefit greatly from. It is a charity that continues to benefit people long-term and continues to earn the giver rewards even after death
Allah SWT tells us in the Qur'an that the reward of spending in charity is like "a grain of corn which grows seven ears, and each ear has a hundred grains" (2:261).

By being part of SAF's mission of Hope, you will have the power to give Sadaqah Jariyah and build something incredible for yourself or your loved ones.
The Difference it Makes
When you give Sadaqah Jariyah, it will support a project of lasting benefit—something like:
One Handpump serving 40 Households in one community: £345
One filtration plant + 5 KVs solar panel serving 5000 Households in a community: £8,614
Community water tank serving 200 Households: £1,716
"When a son of Adam dies, then his good deeds stop except for three: a Sadaqah Jariyah (continuous charity), a beneficial knowledge, or a righteous child who prays for him." – The Prophet Muhammad (PBUH), as narrated by Muslim.
Water projects are a true example of how one act of charity keeps multiplying, bringing more and more benefit and reward.